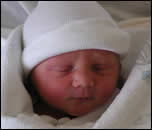 Please join us in welcoming our baby boy, Owen Thomas Buchanan, born 10:18 p.m. on Monday, November 4, 2002.
Having arrived 5 weeks earlier than anyone expected, Owen further surprised us all by being a remarkably healthy weight of 6 pounds, 8 ounces, at 19 inches long. Tall. Whatever. He is a sleepy, quiet little guy, delighting us all.
The labor and delivery went well. Everyone's happy and healthy. And sleepy. I'm not sure how often I'll be posting over the next couple weeks. Things have sort of changed.
06 Nov 2002 Sam